Nuts Flavouring Machine.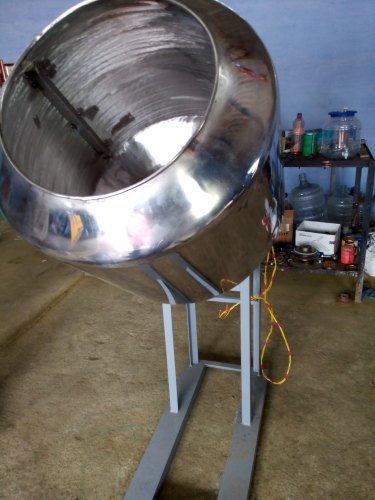 Nuts Flavouring Machine.
Product Description
(MANUFACTURERS OF JACK FRUIT PROCESSING PLANT / JACK FRUIT PULP PROCESSING PLANT / JACK FRUIT JAM PROCESSING PLANT / JACK FRUIT JELLY PROCESSING PLANT / JACK FRUIT JUICE PROCESSING PLANT / JACK FRUIT CHIPS PROCESSING PLANT / JACK FRUIT SEED POWDER PROCESSING PLANT / AND MACHINERIES & EQUIPMENTS).
ZIGMA MACHINERY & EQUIPMENT SOLUTIONS are Manufacturer, Supplier, Exporter of Various Fruits & Vegetable Pulp Processing Plants, Fruits & Vegetables Jam/Jelly Processing Plants, Fruits & Vegetables Juice Processing Plants, Mango Pulp Processing plant, Papaya Pulp Processing Plant, Guava Puree / Concentrates, Pulp & Concentrate Processing Plants, Tomato Ketchup Processing Plant, Tomato Puree Processing Plant, Tomato Paste Processing Plant, Tomato Powder Processing Plant, Vegetable Seed Extraction and Processing Unit, Mango Processing Plants, Mango Seed Powder Processing Plants, Mango Seed Oil Processing Plants, Peanut butter Processing Plants, Peanut Oil Processing Plants, Banana chips or Potatoes chips - Vacuum fried chips Processing Plants, Namkeen/ Snacks Processing Plants, Automatic Snacks processing plant, Coir Fibre Extraction Plant, Coco beat bolck Making Plant, Oleoresin extracts of spices & marigold extracts Processing Plants, Jackfruit based products & Vegan meat Processing Plants, Cocoa Processing Plant, Moringa Leaves powder processing Plants, Moringa Seeds Oil processing Plants, Mayonnaise Processing Plants, Coconut Milk Powder Processing Plants, Coconut Milk Processing Plants, Virgin Coconut Oil Processing Mill Plants, Rava/ Suji/ Dalia Processing & Mill Plant, Corn Puff & Kurkure Processing Palnt, Tamarind Processing Unit, Tamarind Kernel Powder Making Plant, Dates Processing Plants, Plastic Waste Recycling Plant, Municipal Waste Recycling Plant,Tyre Recycling Plant, E Waste Recycling Plant,Carbon/ Biomass Pellet Processing Plant, Metal Shredder, Plasstic Shredder, Waste Shreddder, Industrial Shredder, Tyre Shredder, Dewatering Machine, Metal Bale Preesing Machine, Plastic Bottle Bale Press Machinery, Fish Processsing Plant, Shrimp Processing Plant, Coconut Shell Charcoal Processing Plant, Charcoal Briquttes Processing Plant, Animal Feed Processsing Plant, Cattle Feed Processsing Plant, Poultry Feed Processing Plant, Honey Processing Plant, Ghee Processing Plant, Amla Candy/ Juice Processing Plant, Tutti Fruity Processing Plant, Soya Mill Processing Plant, Flavoured Milk Processing Plant, Ginger Garlic Paste Processing Plant,
Liquid Processing Plants,Fruits & Vegetable Flakes processing plants, Onion Flakes processing plant, ginger powder processing plant, Tomato powder processing plants, Herbal extracts processing plant , Chicken Meat Processing Plant, Fruits Cold pressed oil Processing Mill Plants, Ayurvedic Herbs & Herbal Extracts & Herbal Liquid Oils Processing Plants, Groundnut processing plants, Besan Processing Plant, Tomato Sauce Processing Plant, Lemon Juice Powder Processing Plant, Peanut Butter making Plant, Food processing and packaging Machineries & Plants, Food Dewatering & Spinning Machine, Raisin Processing Plant, Coconut Processing Plants, Canning Line & Processing Machines, Fruit Pulp & Vegetables, Processing Machines, Barley Malt Extraction Machine Production Plant, Tray Dryers, Pasteurizers, Vacuum Pans, Vacuum Pans, Tanks, Cookers, Bleachers and Cookers from India.
Specification
| | |
| --- | --- |
| Country of Origin | Made in India |